Ski Touring, Switzerland, May 2005
EIS - Ski Touring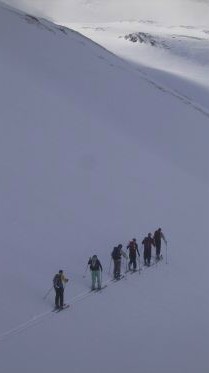 Urner Alpen, Central Switzerland
Four day self drive trip to Central Switzerland. We stay at the Hotel Steingletscher on the Sustenpass at around 1900m. Snow conditions are still good and we have a good choice of day trips to suit all tastes and conditions (weather and skier...), with local peaks up to around 3500m (Sustenhorn, Gwächtenhorn, Fünffingerhorn, Giglistock, and a whole bunch of others)
We have again our Chamonix guides Jean-Louis and Olivier, and will pick tours for two levels of experience and fitness (approximately 1000m and 1500m vertical a day).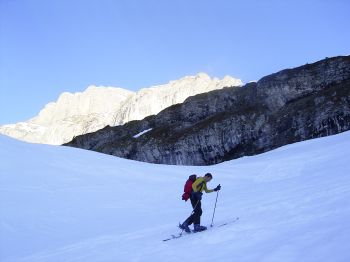 You should be a capable skier in all conditions and able to ski at least a 30 degree slope safely, and you should be fit enough to climb at least 1000m a day with backpack.
Helpful links:
Price is highly dependent on number of people per guide, but is expected to be around 350 euro full board
Please contact Anthony Crowson