Ischgl, Austria, March 2018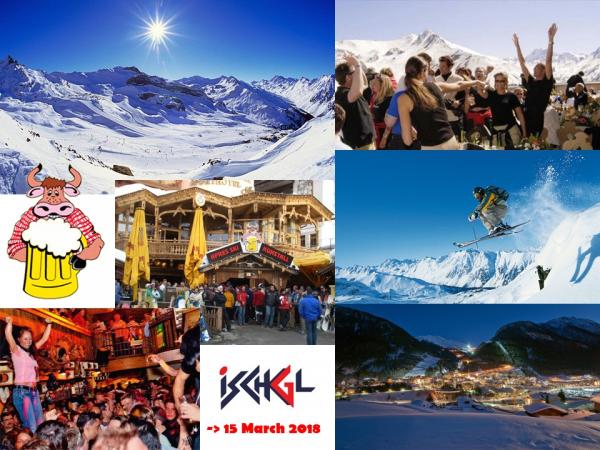 Once again we're gearing up for 3 days of snow and bliss, ideal if you want to ski and party with a group of friends.
The Skiing
Ischgl is situated just south of the St Anton ski resort, close to the border to Switzerland. With 238 km of slopes located between 3000 and 1400 m altitude and 45 lifts, Ischgl offers one of the largest variety of slopes for any level and style of skier, or boarder, to satisfy their passion from November to May. Check out the piste map (top right of this  page) and don't hesitate to contact the trip captain for more information.
Après Ski
Around 16:30 most people are going to be making their way down the mountain. At the end of the lift and the piste you can find the 'Kuhstall' for great après skiing!!! If you want Oompa Oompa music this is it, more modern music in 'Fire and Ice' opposite. After some beers / Glühwein we take the bus back to the hotel for sauna and dinner. If you want to head back into town after dinner you can take a taxi (not expensive).   
Accommodation
We will again be staying in the cosy hotel Mallaun in the small town of See just outside Ischgl (http://www.hotel-mallaun.at). The hotel has been recently (2014) upgraded, including an excellent spa and an indoor swimming pool. 
Every morning, except Sunday, our bus takes us to the lift. For the later risers / party-goers there is also the regular ski bus, covered by our ski passes.
Getting There
The bus will leave EUMETSAT at 15:45 and from ESOC at 16:00 on Thursday the 15th of March. We will arrive in Ischgl on Thursday night. On Sunday, we leave the slopes around 16:00 and drive back to Darmstadt.
Further Info
Trip price includes bus transfer, 3-day ski pass, 3 nights, bed, breakfast and 2 dinners.
Ischgl 2018 photos: https://photos.app.goo.gl/pIBxZI7Lj5T8kWUP2
Ischgl 2017 photos: https://goo.gl/photos/MNLB2uw3pfVuyqYN6
Ischgl 2016 photos: https://www.dropbox.com/sh/x97x57ixmgf6fjs/AACAodVRfd4TBtTe0dwOD6Dga?dl=0
Ischgl 2015 photos: https://www.dropbox.com/sh/4m09kmtii9skii8/AADIAIpe8rqP5DRsTRPEVUXRa?oref=e&n=33095504
Contact
Please contact Riccardo Di Corato for any more information.
Snow Forecast